Website
templates

for your Club

Take advantage of our beautiful website templates. All you have to do is change the text and your website can be ready in a few moments.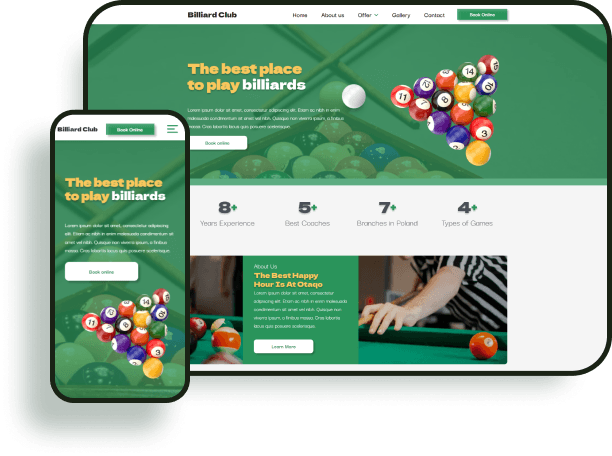 Easy-to-use club website templates
Increase your profits and online visibility with our solution!
No technical skills required
No experience in web development is needed.
BookGame Support
Our support can take care of you and make adjustments to the site for you!
Unique Design
Do you want something unique? We can create a completely new website from scratch.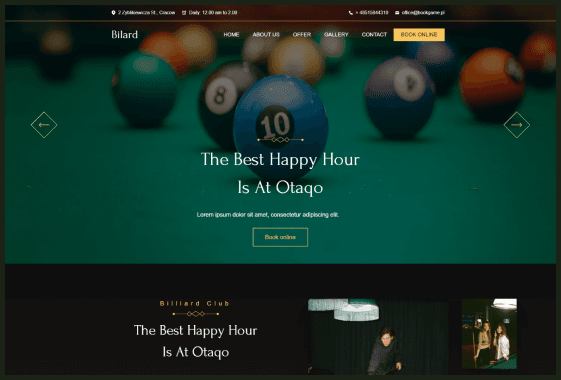 Beautifully-designed club website templates
Make your club stand out online with our customizable club website templates.
Pre-designed website templates
Implement club specific templates that match your branding with just a click.
Customizable options to fit your branding
Effortlessly customize your club's site that allow you to make any template match your branding.
Responsive design
Each template is designed to make your website stand out from other club sites and look great on all devices.
Your new website with online booking system
Expand your club's online presence and increase your profits with an integrated online booking feature.
Online booking on your club's website
Our online booking system is integrated into your website, allowing customers to place online bookings.
User-friendly interface for online booking
BookGame has a user-friendly interface that is mobile-friendly and makes it easy for clients to place online booking, even if they're not tech-savvy.
Secure payment processing
The online ordering system allows clients to make secure online payments, giving them peace of mind when making transactions online.
How to get a new website in 24 hours?
Get your own website in just a few easy steps – no coding skills required.The best way to get a club website is to follow these 3 steps:
Step 1
Choose your club's website template
Browse our collection of customizable templates and find the perfect match for your brand. Select a template that aligns with your club's theme and style, and get ready to take the first step toward a powerful online presence.
Step 2
Adjust content and images
Customize your site with unique text and photos that reflect your club's uniqueness.  This can be accomplished on your own or with the support of our Bookgame team.
Step 2
Publish your website
Once your club's website goes live, get ready to welcome new customers, grow your online presence, and offer online bookings.
Marketing tools to promote your club's website
Maximize your club's online visibility and reach more customers with our built-in online marketing tools.
Automated customer reviews collecting
BookGame automatically collects customer reviews, making it easy for you to gather valuable feedback to help improve your business.
Discount codes and vouchers
Use the discount voucher option to create special promotions and discounts for your customers.
Cross-selling and up-selling
Boost sales and increase revenue by promoting complementary or additional products and services.
Advanced promotion module
Create and manage promotions, making it easier to attract new customers and retain existing ones.
SEO-friendly website
Our website comes equipped with SEO tools that make it easier for potential customers to find your website in search results.
Websites optimized for SEO to get you more traffic
Edit meta titles and descriptions easily
Integrated with Google tools to let you track your performance
Outperform your competition in search results
Free hosting and SSL certificate
Club websites created with BookGame get free hosting and an SSL security certificate. So focus on managing your restaurant and leave the technical matters to us.
Website maintenance is on our end
Secured website and online payments with SSL
Custom domain name
No hidden fees
Why Clubs
Choose BookGame?