Cooperation with a large bowling alley chain MK Bowling
MK Bowling is the largest bowling chain in Poland. Eight Polish cities feature these facilities, bearing the distinctive logo. They offer access to professional bowling alleys, billiard tables, shuffleboard, and tasty snacks. Some also have a club area for evening parties.
| | |
| --- | --- |
| Such a large chain of venues can only function with a sound booking system. When we started working with MK Bowling, its employees already used this software. | Our task was to find a solution better suited to the bowling alley's needs. |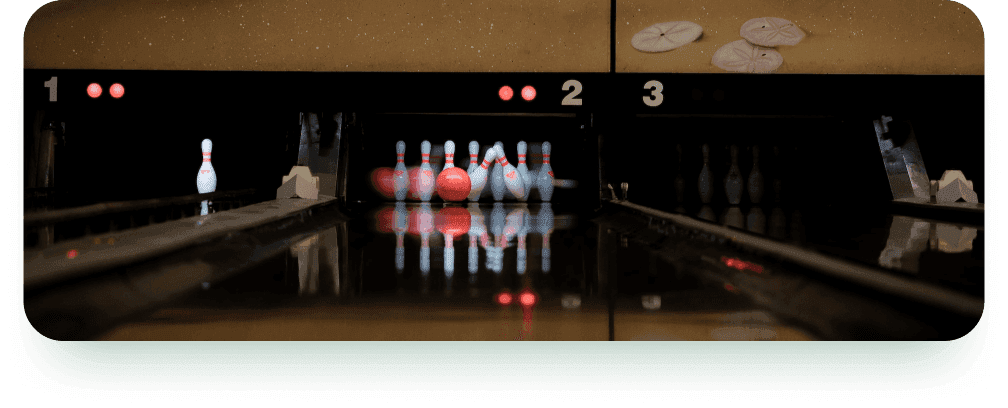 See our booking solution for Bowling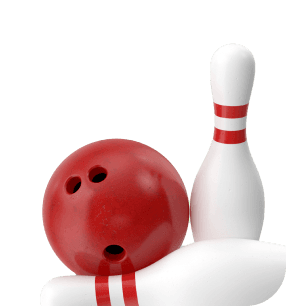 Chaos in bookings - what did the MK Bowling chain face before implementing BookGame?
MK Bowling staff were already using a booking system before BookGame was implemented. However, it needed to be fully adapted to the chain's needs. These included:
logging into several different systems to handle orders for the premises' various services - the separate receipt of bookings also made it challenging to cross-sell conveniently;
of manually creating bookings and entering data on current promotions and discounts into the system in this way, which slowed down the whole process.

There were also challenges regarding overlapping bookings.

The MK Bowling chain expected a system that:

would combine the booking of different services within a single software;
would simplify payment for bookings - so that customers could order several services at once;
would provide an easy and transparent service for both customers and employees;
would gain the approval of visitors - so that the majority of visitors approval- so that most bookings would be accepted through this channel
What has the implementation of BookGame at MK Bowling looked like?
After analysing MK Bowling's expectations, we prepared a solution that meets the expectations of this bowling network.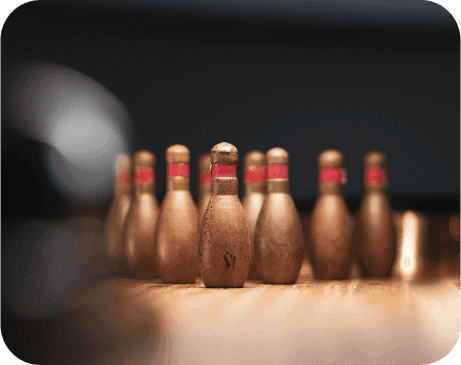 What have we done?
Working with MK Bowling, we have implemented a single, consistent booking system that covers all the critical services provided by the chain's venues.
Each venue uses a separate booking system - to the extent that it matches the attraction it offers.
Customers can book directly on the bowling alley's website (after selecting a city) - a simple yet secure solution.
Making a booking requires online payment within five minutes - this arrangement is designed to prevent overlapping bookings and 'empty runs' of tracks when a customer doesn't turn up at the agreed time.

Making a booking requires online payment within five minutes - this arrangement is designed to prevent overlapping bookings and 'empty runs' of tracks when a customer doesn't turn up at the agreed time.
When booking, the customer can order additional services - such as a snack set, bowling shoes or children's bands - increasing cross-selling
How has implementing the BookGame booking system affected MK Bowling's work?
The MK Bowling team is pleased with our booking management system's changes. Its implementation has brought benefits to customers and staff. Here are the most important ones.
40% of bookings are made online

The simplicity and convenience provided by the BookGame system quickly convinced customers to use it. As a result, phone calls to the venue and bookings made in person decreased significantly. Approx. Forty per cent of these are now made online, helping streamline receptionists' work.

Higher turnover from cross-selling

This is possible because the system allows customers to 'bundle' additional services when they book a bowling lane or pool table. As a result, they are more willing to spend, and turnover increases.

Safety and convience for customers

They can book directly on the MK Bowling website, without being redirected to an external service. This increases confidence in the whole process and simplifies it. They can also rest assured that if there are problems with payment or booking, they will automatically receive a refund of the amount transferred - without having to make a claim.

Ease of "training" new employees to use the system

Onboarding new reception staff at MK Bowling venues goes smoothly - the system is so intuitive that a new team member can quickly begin to operate it independently.

Easy implementation of extensive promotions and discount system

With BookGame, you can automate the process of adding complex promotions - for example, a package of services - and calculate the price correctly with the discount. It also allows you to create discount codes for loyal and new customers. It's a solution that boosts the sales potential of clubs.
Perfect solution for large bowling chains.
We received thorough training and ongoing technical support. This allowed us to go through the implementation process painlessly, and the new system has improved our work significantly.
Katarzyna Dragan-Sobczak, Manager MK Bowling
Read
Stories of Our Clients
Start using our system
FOR FREE